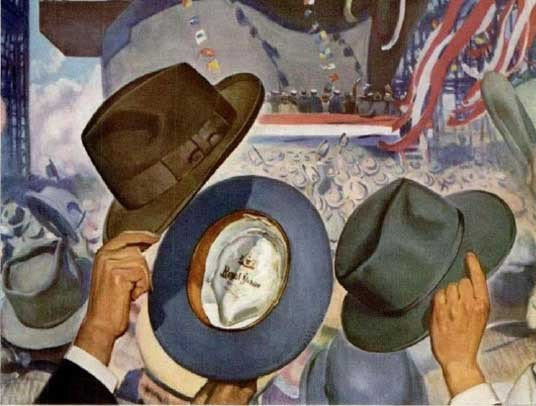 The Role of Hats in U.S. Politics
All politicians should have 3 hats - one to throw into the ring, one to talk through, and one to pull rabbits out of if elected." - Carl Sandburg
Throughout the course of U.S. political history, hats have occupied a strangely iconic position in relation to their wearer. Think of some of the major U.S. political figures of the past and you may be surprised at what hats are inseparably connected to them.
There's George Washington with his trademark Bicorn perched forwards and set into the wind at a determined angle. JFK was an infrequent hat wearer but it was his wife Jackie Kennedy Onassis who single handedly popularized the Pillbox hat for women. And is anyone even sure what President Abraham Lincoln looked like without his Top Hat?
Hats in U.S. politics seem to be as much a part of the politics as the people who wore them. Does that seem a little far fetched ? Consider this :
In the United States it has been historically expected that the incoming president elect would wear a Top Hat to their inaugural speech. Symbolically, this was a sign of both the celebration and the gravity of the event taking place. Charles Oberdorf writes that every US President followed this protocol until "Dwight D. Eisenhower unwittingly began the retreat from the hat in 1953, when he became the first president in 100 years to wear anything but a topper at his inauguration. Ike wore a Homburg, making that style instantly acceptable to wear to even the most solemn occasions. Eight years later however, when "the torch passed to a new generation", President-elect John F Kennedy seemed to feel compelled to go Eisenhower one better by wearing no hat at all."  Young aspiring men all across the nation promptly purged their hat closets. So much so, that many of the major hat manufacturers of the time pinned the decline of the men's hat industry squarely on JKF's head.
It was President Abraham Lincoln who would use his Top Hat as a storage container, holding paper to use as his speaking aids when addressing constituents. He would, at times, crumple up those notes and throw them to the ground in frustration for impact. He also stitched a thin navy blue band over top of the original banding on his hat to represent his sorrow over the loss of his son Willie, who died of Typhoid. We have many images of Lincoln in his Topper but sadly, we know the last time he wore it was to attend a play at the Ford Theatre that fateful night of April 14, 1865. After his death, his iconic Top Hat was hidden for 26 years until it became one of the treasured features of Lincoln's story in the Smithsonian Institute.
And to prove to you just how important the hat is to the speech giver, It was William Henry Harrison who paid the ultimate price for removing his hat.  In 1841, at the age of 68, many wondered if he had the stamina for the rigors of the Presidency.  In a demonstration of his vigor, on a wintery March day, Harrison delivered his 2-hour inaugural address by removing both his hat and coat.  He caught a cold and died one month later of pneumonia...Your mother wasn't kidding when she told you to wear a hat to keep warm!  
As what seems like the most popularized election in U.S. history comes to it's zenith, we have our fingers crossed that whomever takes the stage as the next President of the United States of America will wear a hat to their inauguration and make us proud!
Recognition :
IMAGE1 : Washington Crossing the Delaware (1851), by Emanuel Leutze. Metropolitan Museum of Art, New York City.
IMAGE2 : Hatless Jack by Neil Steinburg
IMAGE3 : Abraham Lincoln's Top Hat Photo: Richard Strauss, Smithsonian
© Kevin Neufeld and BeauChapeau.com 2016. Unauthorized use and/or duplication of this material without express and written permission from this site's author and/or owner is strictly prohibited. Excerpts and links may be used, provided that full and clear credit is given to Kevin Neufeld and BeauChapeau.com with appropriate and specific direction to the original content.