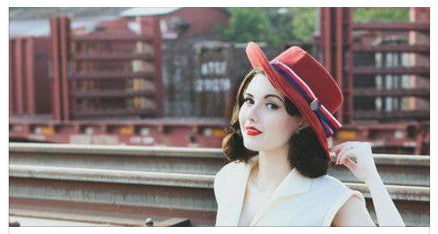 Hats for Halloween
Get inspired with BeauChapeau Hat Shop this Halloween and let your everyday head wear transform you into whatever you want to be for the day. 
Pair your classic fedora with a snazzy suit and tie and instantly become a mobster. For the ladies, a simple skirt and blouse put together with a classic beret, and you and your fella are ready to hit the town as Bonnie and Clyde.
Looking to add some sparkle? What about a 1920's Flapper? With a vintage style cloche topping a fabulous shift dress, you can make any party a Gatsby Party.
 If accuracy is what you are after, BeauChapeau also offers a Stetson in association with the Marvel(R)  Comic Series show on ABC(R), The Agent Carter(R) Undercover Fedora. As well as an officially licensed by Lucas Film Ltd. replica fedora worn by Indiana Jones in The Kingdom of the Crystal Skull. So you will have no trouble emulating your favourite screen stars!
From Cowboys to Mary Poppins and everything in between, see the Halloween collection here or check out our Pinterest for more hatted costume ideas!